Dumbbell Domination Full-Body Workout with Inspire Trainer Myles Davis
Dumbbells
are a great, versatile addition to your workout regimen. They're compact and multifunctional, making them a must-have for any home gym. Whether your gym is fully stocked with equipment or you're just getting started, free weights are a tried-and-true workout staple.
While bodyweight and barbell exercises are great, nothing quite compares to the versatility of dumbbells for full-body workouts. So, grab your dumbbells and follow along with Inspire Fitness trainer Myles Davis for this full-body "Dumbbell Domination" workout targeting the shoulders, legs, chest, and back.
Before beginning this workout, consult with your physician to make sure you are healthy enough for exercise. Warm up for 10-15 minutes with cardio and dynamic movements before you begin and cool down 10 minutes after the last exercise with static stretching. Take about 35 seconds for your rest period between each set.
Static Arnold Press
Squats
Chest Press with Alternation
Dumbbell Row
Front Raise
Pull-Overs
Presses
Three sets of 8
:
Static Arnold Press
For the Arnold press, start in a standing position and keep the elbows in an up position and rotate one arm straight above the head and come straight down. With the static movement, one arm is up the entire time while the other comes down, alternating between each.
Three sets of 10:
Squats
Adding dumbbells to your squats will increase resistance and strengthen your lower body and core. Keeping your arms to the side, lower yourself into the squat position. Be sure to keep your chest up and go down at a 90-degree angle.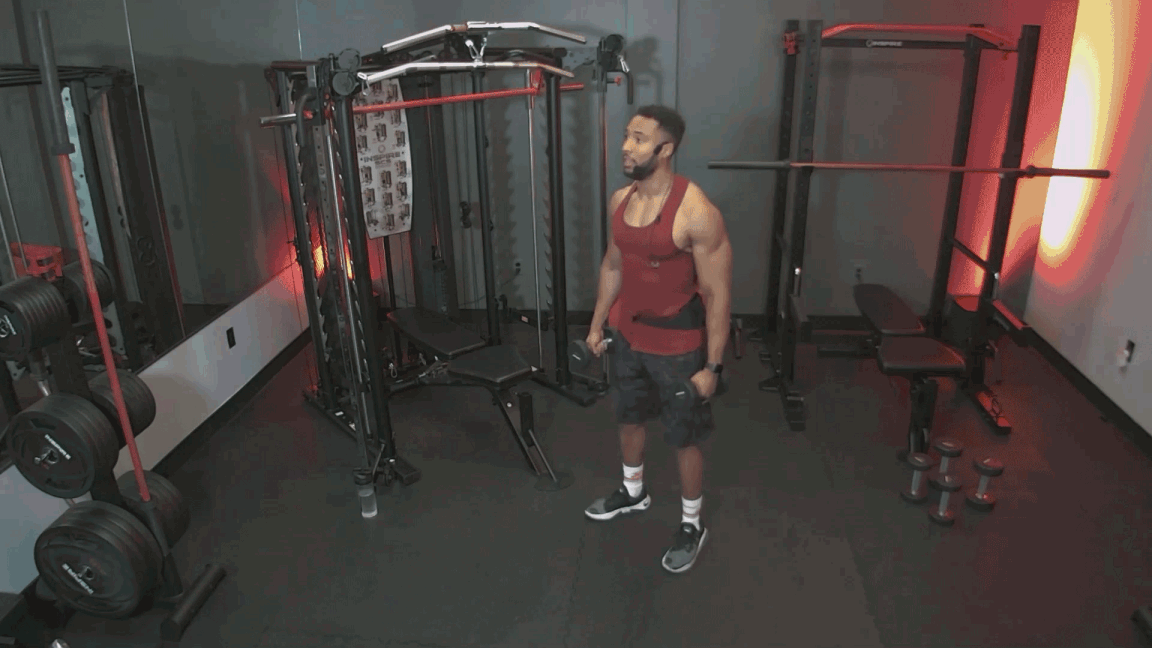 Three sets of 12:
Chest Press with Static Alternation
If you have a bench available, lie all the way back flat. You can also do so by laying flat on the ground on a mat. Start with the dumbbells in the up position and like the Arnold presses, focus on static alternation by bringing one arm straight down towards the body. Then, press up with the other arm. One upward press on each arm is a single rep.
Three sets of 10:
Dumbbell Row
Laying one leg down on the bench, come forward so the body is parallel to the bench, have one dumbbell in hand while keeping your chest up and neck in a neutral position. Pull the elbow nice and tight to the body straight back. You should feel the activation in the back. Alternate arms by also switching legs on the bench. Do 10 complete reps with one arm, then 10 with the other arm. That is one set.
Three sets of 8:
Front Raises
Front raises can be done in a seated or standing position. For this workout, we'll do them in a seated position to engage the core a little more. From the seated position, keep your chest up with the dumbbells at your side with your palms facing each other. Then, raise your arms parallel to one another so your palms face the ground and drop them back down in a controlled motion.
Three sets of 10:
Pull-Overs
In a lying down position with your feet flat on the floor shoulder-width apart, start by holding the dumbbell above your chest with your hands crossed in a diamond shape using your thumbs and pointer fingers. With your elbows bent 10-15 degrees, hold and slowly stretch and lower the weight back over your head until your upper arms are parallel to the floor. Raise it back up over the chest slowly.
Three sets of 12:
Presses
Start with your back flat on the bench, or on the ground, holding a dumbbell in each hand just to the sides of your shoulders. Your palms should be facing towards your feet. Press the weights up above your chest by extending your elbows straight and squeezing your shoulder blades together.
Did you love this dumbbell workout? You can watch and follow along with Myles and all of our other Inspire Fitness trainers with live and on-demand classes on our mobile app. Try out the Inspire Fitness app FREE for 30 days by signing up today. If you need some dumbbells, our 5-30lb rubber dumbbell set with rack is now on sale for $250 with qualifying purchases.
Let's get stronger together.