Total Body Bench Workout with a Functional Trainer
We're going to bring new meaning to "riding the bench." For us at Inspire Fitness, that means using a seemingly stagnant piece of equipment as a tool to build muscle and support your body while lifting. The bench works hand in hand with the weights system to encourage proper form and provide sturdy backing while you move.
Before we get to work, you have to wake up your muscles. Spend 10 to 20 minutes getting loose with the warm-up of your choice. Doing some vital prep will prime your body for the action to come, and lessen the chance of muscle strain.
Warm-up options :
Light cardio (A quick jog around the block, jumping jacks…)

Leg Swings

Light Stretching (Save the deep stretches for after the main workout)

Foam rolling

Squats, push-ups, or bodyweight lunges
Now, let's work the bench.
Seated Row:
Balancing here and keeping your legs stationary, twist your torso from side to side.
Position the bench on a 90-degree angle and sit facing the upright portion of the bench.

Pull the handle and weight back toward the lower abdomen while trying not to use the momentum of the row too much by moving the torso backward with the arms.

Target the middle to upper back by keeping your back straight and squeezing your shoulder blades together as you row, keeping your chest out.

Return the handle forward under tension to full stretch, remembering to keep that back straight even though flexed at the hips.
(Repeat the exercise for the desired number of repetitions.)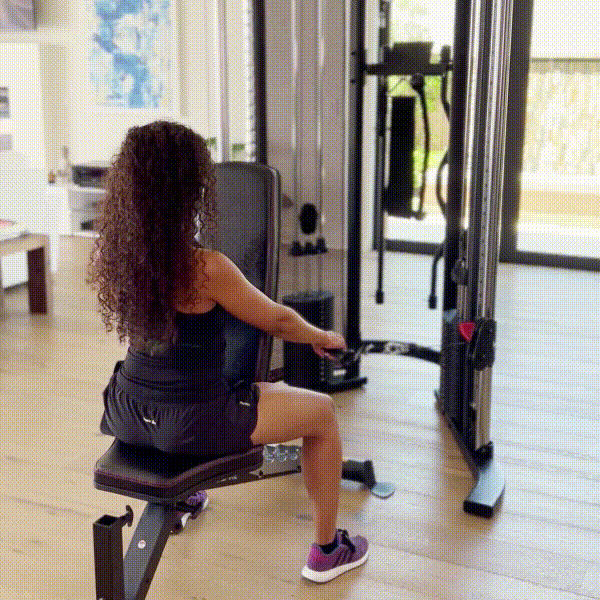 Tricep dips:
Sit on the edge of the weight bench and grip the edge next to your hips.

Press into your palms to lift your body and slide forward just far enough that your behind clears the edge of the chair.

Lower yourself until your elbows are bent between 45 and 90 degrees. Control the movement throughout the range of motion. Push yourself back up slowly until your arms are almost straight and repeat.
Lat Pulldowns:
Using a bar attachment on the functional trainer, grab it with a neutral grip and sit on the bench facing the machine.

Slowly, while keeping your body straight and upright, pull the rope down using anf squeezing your lats as far as possible.
Single Leg Step Ups
Stand beside the bench and place one foot firmly on the bench while the other foot stays planted on the floor.

While keeping your chest up and core tight, bring the back leg up and towards the chest. Step back into starting position and repeat.
You're not done just yet. Cooling down exercises are a great way to ease your body back to relaxation, and can curb soreness post-workout.
Cool down options:
A walk around the block

Deep stretches (be careful not to strain)

Beginner's Yoga
Now, breathe.
For videos of this workout visit our Instagram (@inspirefitness) for a demonstration of safe repetition speed and proper form.
Inspire Fitness is here to support your fitness goals with our high-quality, expertly crafted equipment and effective, fun workouts from world-class trainers. Download our Inspire Fitness App to stream video workouts, follow workout plans and browse our exercise library.
If you're looking to expand your home gym, now is the right time! Our Showroom partners are giving the gift of a FREE SCS Weight Bench (A value of $599) with the purchase of a FT1 Functional Trainer, FT2 Functional Trainer or the SCS Smith Cage System. To sweeten the deal, you'll get VIP treatment from start to finish. That means a personalized shopping experience, custom home gym room layouts by experts, delivery and installation – plus, access to the service team for a lifetime. This deal runs through September 5! You can purchase through our site, or click through to our Showrooms tab and find a retailer near you!